It features a unique mix of content and display management, control system capabilities, interactive presentation and mobile guide functions.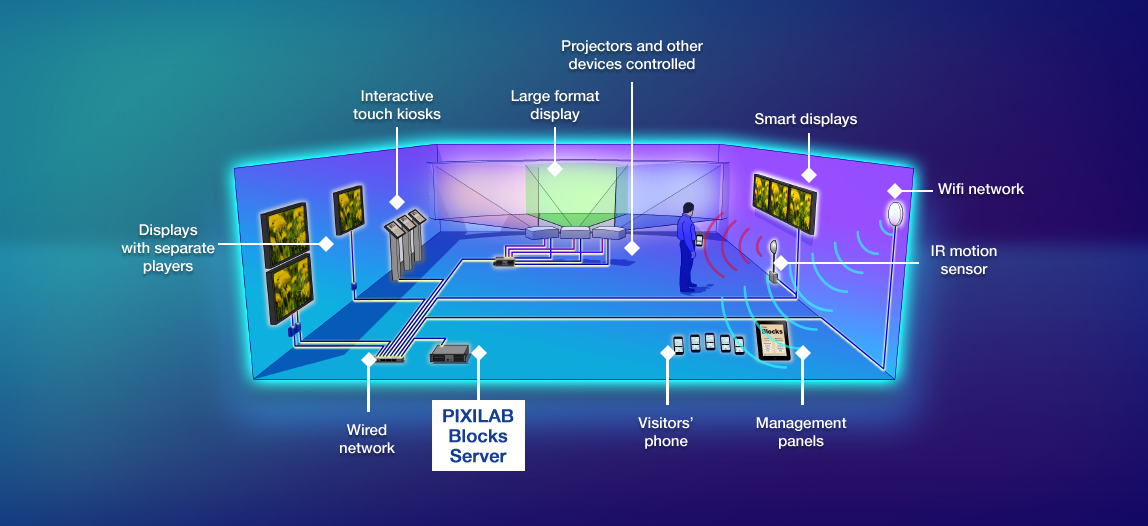 Display
Interactive Content on any display, projector, touch screen, TV or LED wall

Mobile devices
Any mobile phone, iPad or Android tablet can act as an audio/multi-media guide, No app required

Lights
Any lighting ficture from a simple HUE bulb to multi-channel moving heads using DMX512 and ArtNet

Sound
Tailor sound to your audiences' preferences, multi-channel surround sound or complex soundscapes

Sensors
Initiate actions on motion, distance, touch, mechanical input or other events, using simple GPIO triggers or industry-standard interfaces

Objects
Interaction based on the identity, placement and orientation of objects using RFID or NFC technology

People
Use GPS, Beacons, QR-codes and themed tokens to know who's where, resulting in an immersive experience

Logic
Use tasks, scripts and variables behind the scenes – from simple conditions to complex programming
Large projections
Large-scale, edge-blended projection, geometry correction and 3D image mapping on buildings and other objects.
Being a control system, Blocks connects
to your entire presentation environment.
Curious about what
Blocks can do for you?